This has been a week with lots of stuff for me to post about, so here goes.
First off, I was able to put in about 2000 stitches on Snow White, give or take a few. Here is the top left corner so far: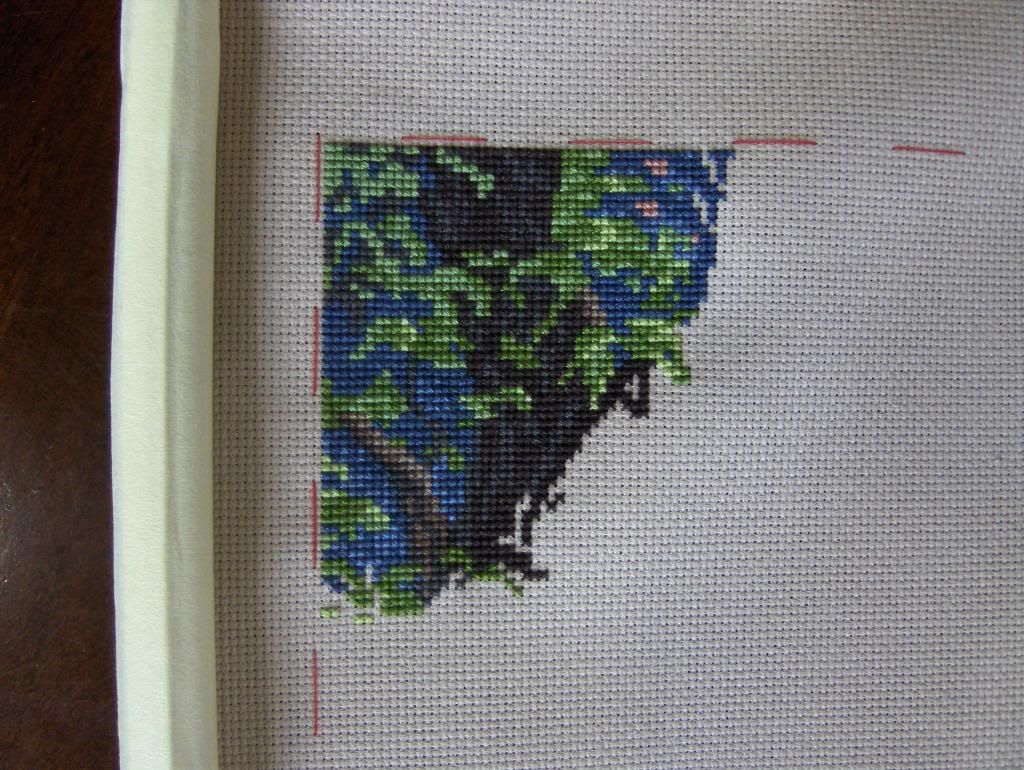 I was excited to be able to start this one, but again I don't really really get into a project until it is past its 'infancy' stage - with this one that will probably be around week 3 or 4. Still exciting though!
I also did my first finish work ever on a cross stitch. I 'framed' A Princess Was Born using the basic idea of
this tutorial

.
I laced the stitched piece onto the foam core board (after it was washed and ironed), and taped the pink fabric onto another piece of foam core board. I used plain straight pins with 'pearl' beads around the edges, and pink and white sparkly ribbon. I twisted the white sparkly ribbon a little bit between each pin. Anyway, I have never done more than put a piece in a basic frame, so I was really happy with how this turned out. Happier I think than I would have been if I had put it in a frame - it's just so princess-y this way :) My daughter loves it, too, and it only cost me about $8 :)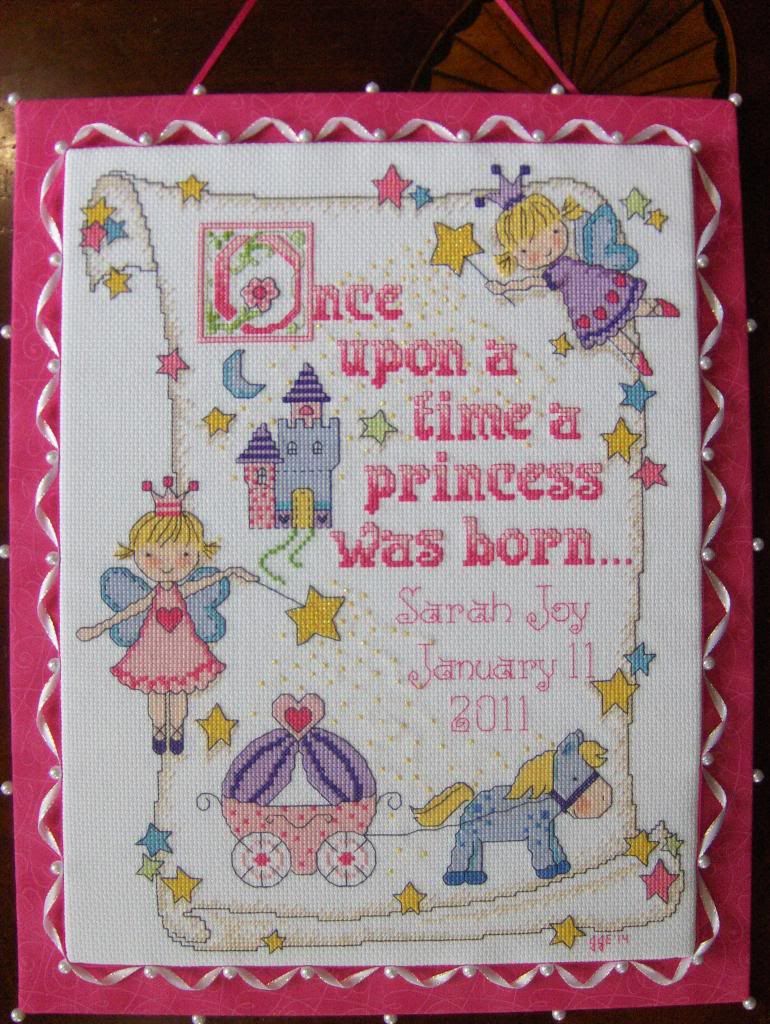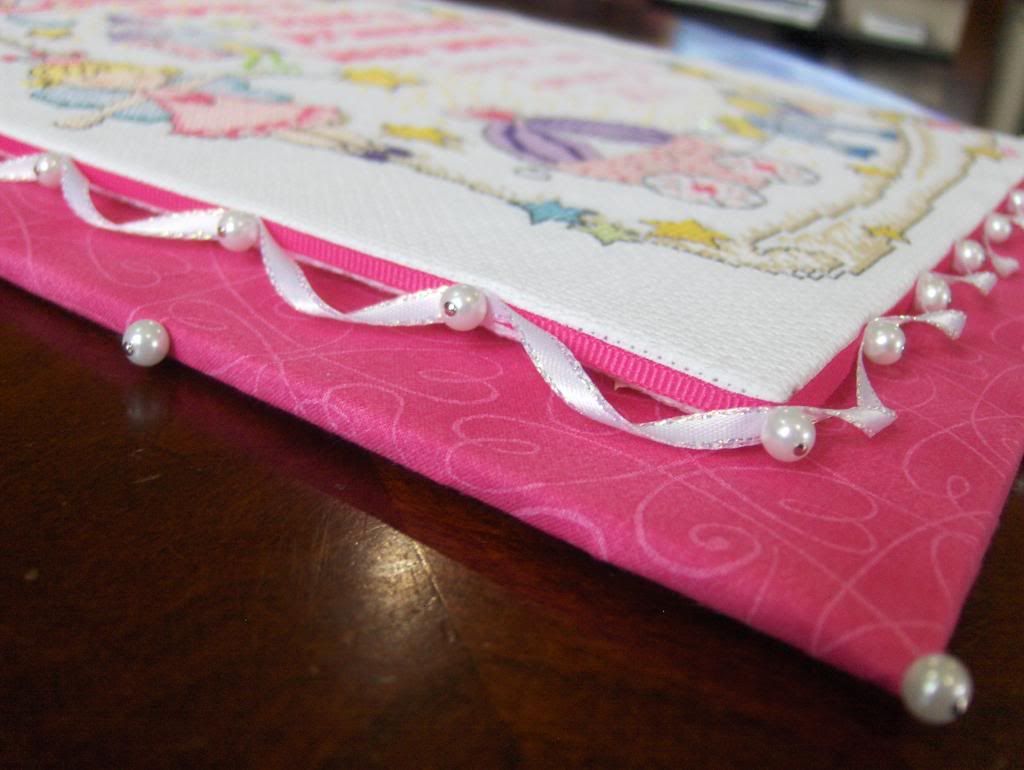 Also, my birthday is this Wednesday, and my husband made me an early birthday present. He made two sets of scroll rods for my scroll frame and another set of knobs :) I am so spoiled! One set is 18" like the set I use to put my Disney Dreams pieces on, and the other set is 26". The larger set is big enough for me to put my Blackwork Sampler on.
Hooray! I haven't done much on this one yet because I was having to work on it 'in hand'. After getting my scroll frame it really spoiled me and now I want to work on all of my big projects on one.
In case you are wondering, this is a sampler called
Save the Stitches
by Elizabeth Almond at
blackworkjourney.co.uk
. It's a free sampler she is releasing month by month. And I know that it's called blackwork and I am doing it in blues, but that's the wonderful thing about needlework - you get to make it your own. :) Here is a closeup of my progress on Block 1 (I am WAY behind.)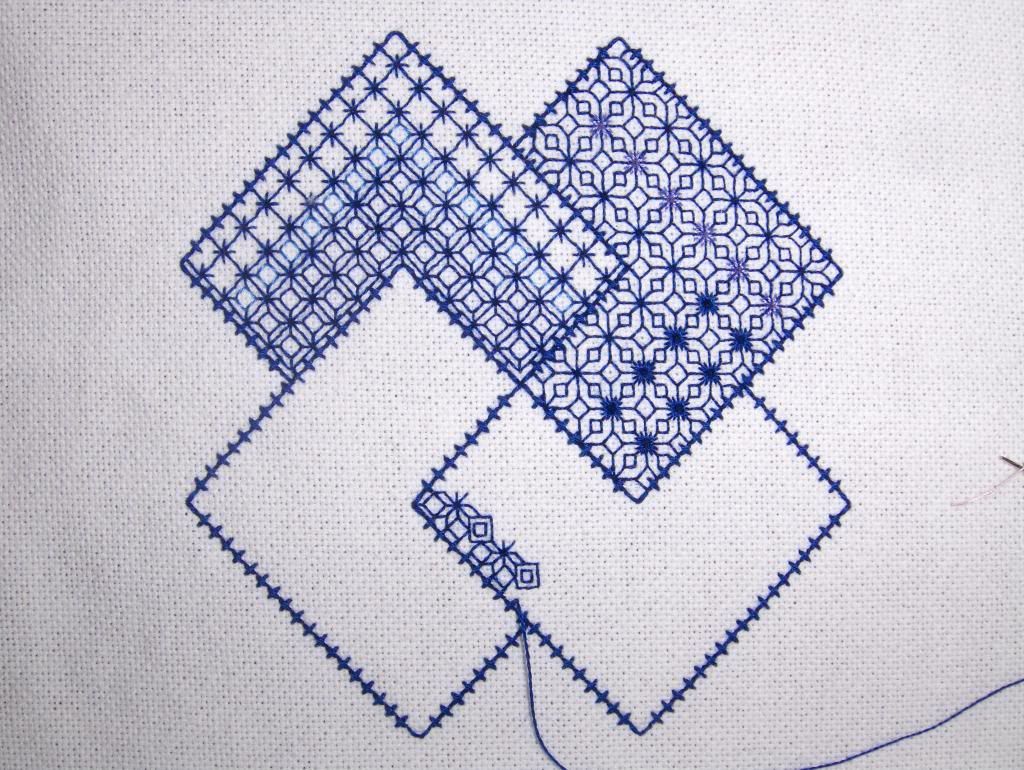 The other part of my birthday present is that Beauty and the Beast is getting framed :) We bought the frame yesterday and I have the mats picked out. I did have a little mishap though.
I finally bit the bullet and washed Beauty and the Beast so I could square it up and iron it. I washed it in cold, cold water, so cold it hurt my fingers. I rinsed it and rinsed it over and over, kept the water running over it for at least 10 minutes after the soaking and washing time. Everything was great, it cleaned up really nice. I gently rolled it in a towel to take out the excess water and set to work blocking it. I had it stretched and was going back around the piece making it straight, a little over halfway done, and noticed a little bit of a yellow tinge on the aida next to a set of green stitches. I thought my eyes were just being goofy in the light, but then noticed a couple of hours later that several areas next to the green were turned yellow. The greens bled onto the aida :( It doesn't seem to have affected the other stitches at all THANK GOD but I was still really disappointed. I might need to contact the distributor and let them know. The piece isn't ruined, and I doubt it will be noticeable at all once it is framed, but still. I shouldn't have to worry about the floss colors bleeding. :(
Oh well, c'est la vie. Hopefully next week or the week after I can show a picture of BatB all framed and beautiful. :)
Hope you all have a good week and get lots of stitching done! Sorry I'm so talky-talky :)