I think that probably as cross-stitchers, it is universal that we are always looking for the next project that we will work on. I know some people have tons and tons of projects lined up - typically more than they could ever really get done in a single lifetime. I am trying to limit myself to projects that I feel very passionate about doing, otherwise I think they might not get done. My eyes are still big, don't get me wrong. I have also found while looking at other peoples' blogs and pictures, that there are some
gorgeous
patterns out there. For instance,
Chatelaine Designs
incorporates lots of specialty stitches and beads into their patterns. I think this Fairy Garden pattern would be amazing, and it might be one that I save up for. The kit is around $240 with the pattern! Eeeek! But soooo pretty...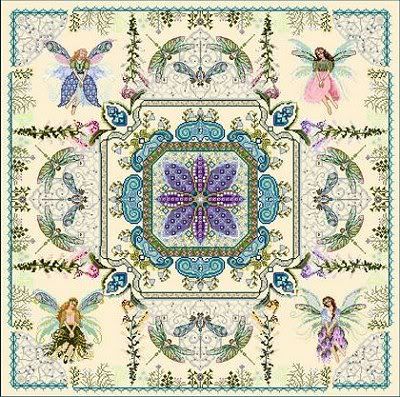 There is another company called
Mirabilia
that does beautiful work as well. They also incorporate lots of bead work into their patterns. Take a look at some of these: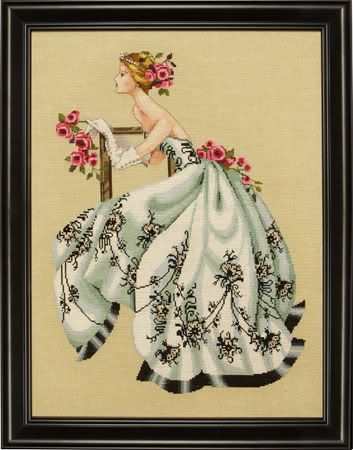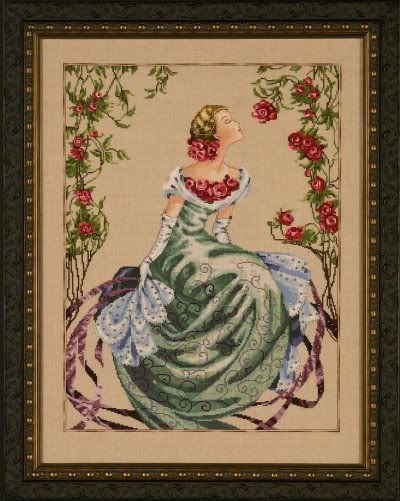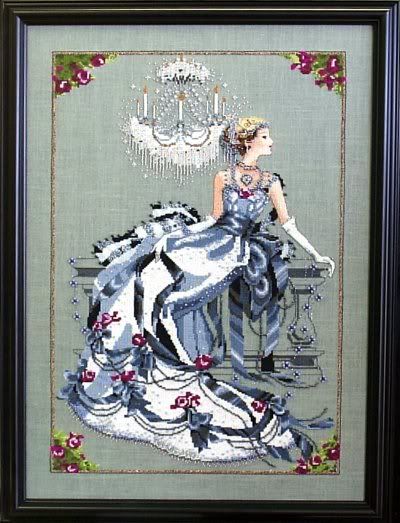 And to get a closer look and a better idea of some of the beadwork, check out
this blog.
She has some beautiful pieces!
Of course, I already bought the Snow White piece that matches the Beauty and the Beast one I am working on. I just love Disney, what can I say? And these two were the ones that I felt looked like they were done the best.
I have also heard a lot about
Heaven and Earth Designs
, and they have a lot of beautiful pieces as well. The only problem is that they are sooooo massive, that I feel like I would have to be over-the-top in love with a piece to get it done. I did find this piece called Minerva's Melody that I put on my wishlist, because she is playing the harp. I play both the harp and the piano, but have had a very difficult time finding a cross stitch design that has a decent harp in it. I really like the colors in this one, too.
And finally (for now anyway), I just found this pattern yesterday. My daughter is almost 15 months old, but I never made a birth announcement for her. Do you think it's too late? Her name is Sarah, which means "Princess", and I thought this was fitting. So cute! And I think it would stitch up relatively quickly. I wish it came as just a pattern, but the kit for around $15 I think I can manage. (Especially if I order from Joann's online and use a coupon...) :)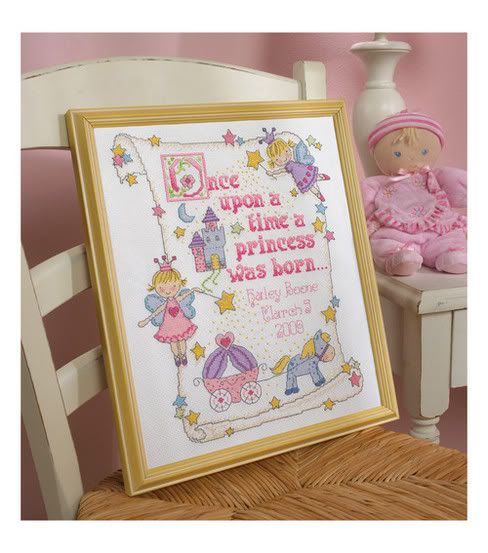 Well, for now, this is my 'wishlist' of pieces to work on in the future. This doesn't include other pieces that I already have the patterns and materials for, or other unfinished projects that I already have started. See what I mean by my big eyes? :)