First off, I wanted to show my progress from this week of stitching. I worked on A Princess Was Born (again). I like it when a project gets out of its 'infancy' stage - when I am able to start looking at it and seeing real progress. So here is last week: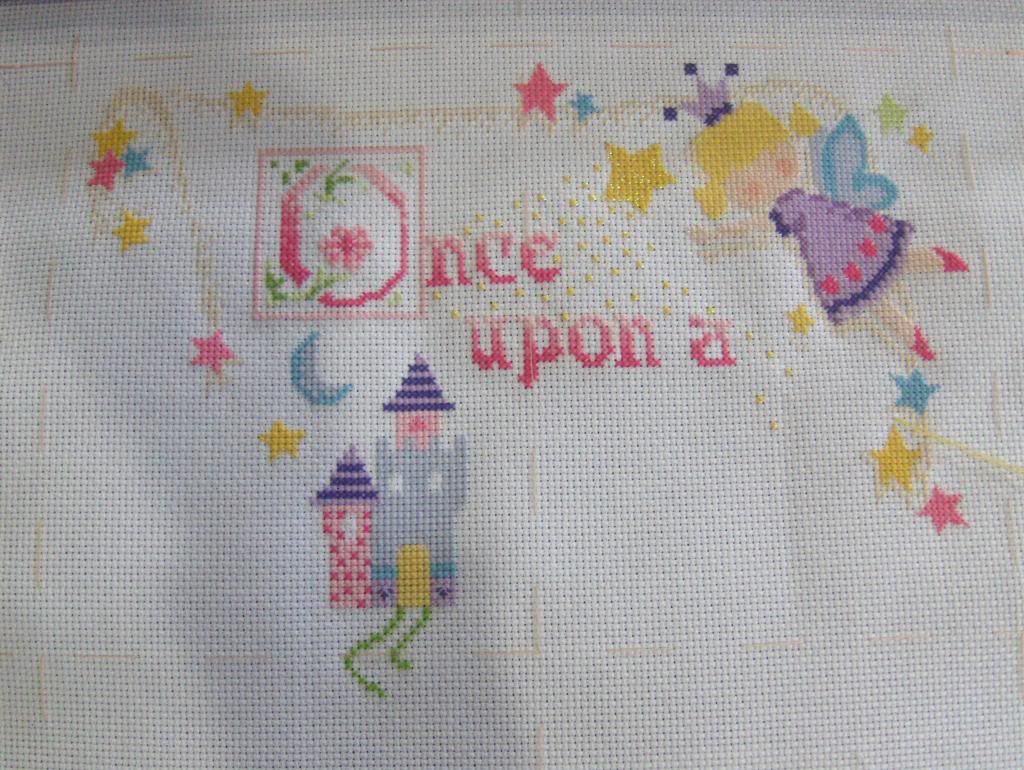 And here it is after this week: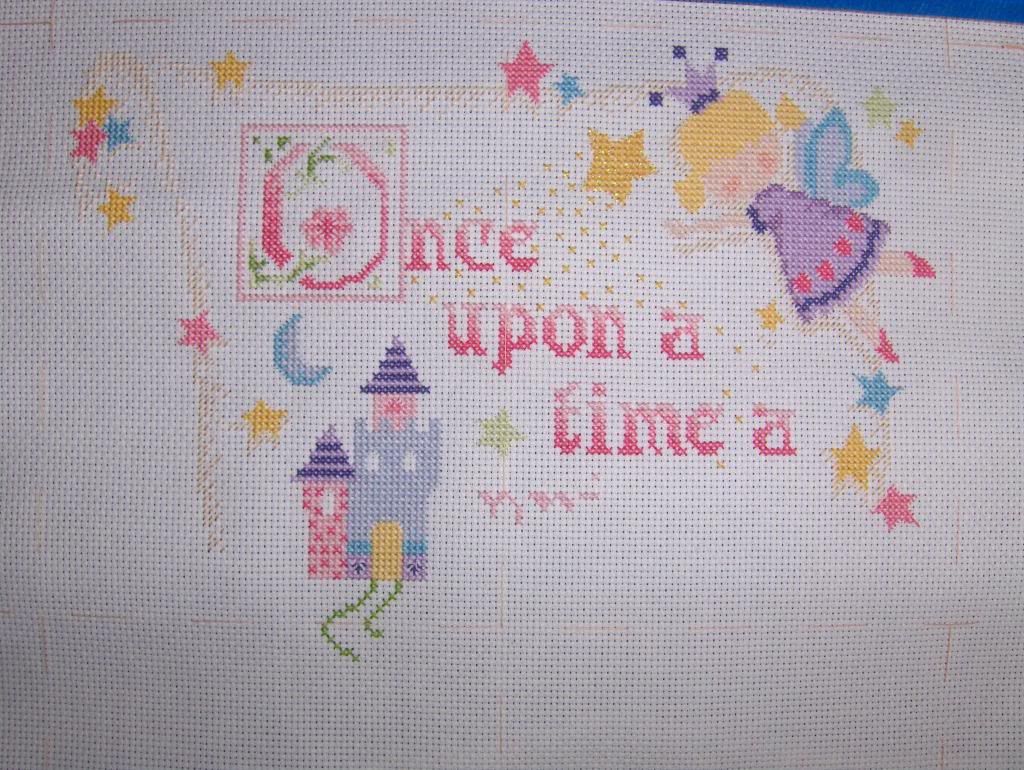 I am hoping to finish 'princess' and possibly 'was born' this week. Maybe I will do some more of the sparkles that come down from the fairy wand, too... But you see the tan dashed line running across the bottom? That is the halfway point! I am super excited about that. :)
Cloudsfactory.net
released a giant Harry Potter pattern that you can see
here
. It is amazing and I want to stitch it so bad! It is pretty expensive though for just the pattern, so she also made it available in 5 parts that you can buy separately. I must confess, I bought the frame yesterday. I need to finish A Princess Was Born and my mom's present, then I will allow myself to buy the fabric and threads I will need for this one. :) Then I can start Snow White and the Giant Harry Potter one and still work on all of my other projects, too!... Okay, so maybe I am more of a 1 or 2 project-at-a-time person, but still. :)
I realized that my mom's birthday is just over a month away, and I had wanted to stitch a little something for her. I won't say really anything about it now, but I think it will be neat and she will like it :) I will post pictures after her birthday to keep her from seeing it before then, on the off chance she watches my blog at all :)
We made more progress on the backyard this week. It has turned out to be a much bigger project than either of us thought it would be (which is always, always the case.), but we are moving along. We cleared out a spot next to the house that was basically just 'dead' space and started putting up the new shed. It's just a metal shed because we couldn't afford the thousands of $'s to do a wooden one, but I think it will definitely work for what we need it for. Here it is so far: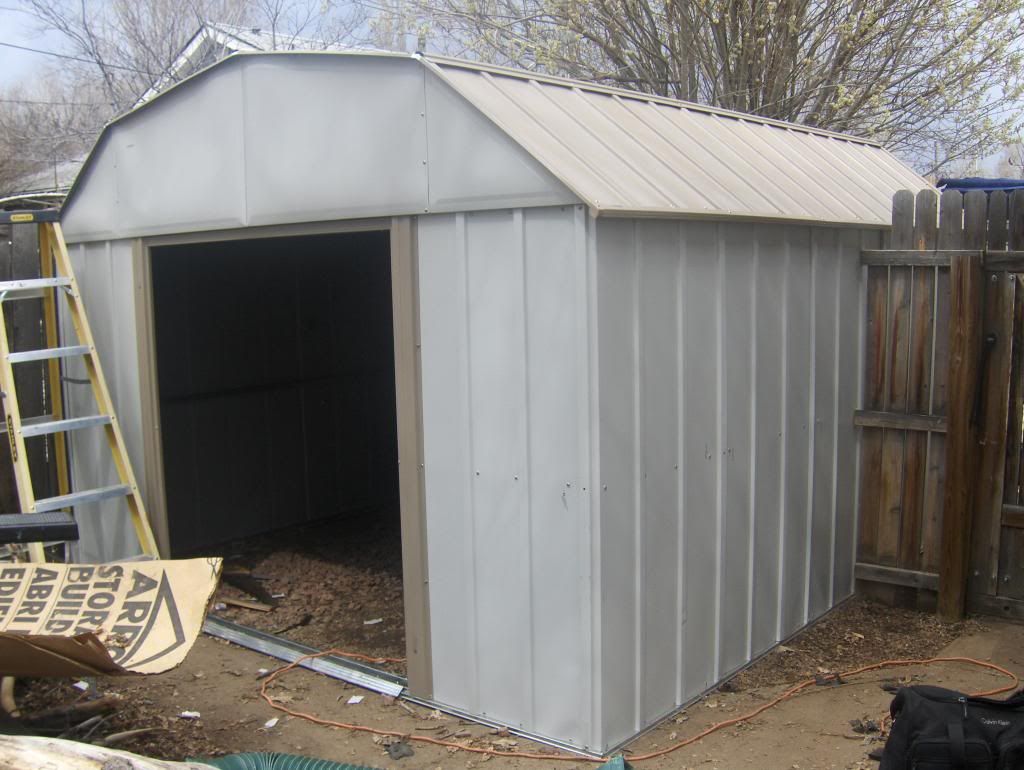 It still needs doors (obviously!) and we have some treated plywood to lay down as a temporary floor, but then we can move stuff in! I am very excited for this part, as it will allow the rest of the yard to be cleaned out, which means we can put in irrigation and start seeding some grass! My amazing husband worked 15 hours on this shed yesterday with his dad, and a solid 8 hours the day before getting the ground level and everything cleared out. It takes a little nudge to get him going, but once he starts he does a great job :)
So the last part of this entry, I wanted to talk a little bit about one of my favorite pieces of 'equipment' for stitching. That is my scroll frame.
Some people use hoops, some people work just in-the-hand, and some people use q-snaps (the pvc-pipe looking stuff with clamps on the edges). I am not a fan of hoops or q-snaps because I feel that unless the project fits in it perfectly with no overhang, it tends to smush the stitches and I noticed a lot more dirt on my fabric around the edges where I had to hold on. In the hand is fine for little projects or on occasion, but again I see a lot more dirt on the fabric, and my left hand gets all cramped up with the way I hold the fabric if I do it for too long. I love my scroll frame because I can rest it on my lap and not have to hold all the weight in my hand, it keeps my fabric nice and clean, it doesn't smush my stitches (like the french knots on Beauty and the Beast!), and it keeps the fabric nice and straight and tight. I have the
Starter Set
American Dreams scroll frame. The 18" scroll rods are perfect for the size of A Princess Was Born and to go sideways on the Disney Dreams kits. I would like to get another size bigger (26" probably) so that I can fit my Water Dragon and my Blackwork Sampler on it.