Let's all just do a HAPPY DANCE!!! This one is finished! All I have to do is sign it, but I figured I would do that after all of the pictures were done :) This post will be picture heavy, but that's just because I really want to show this sucker off. It's freaking awesome :)
Okay, first, 2 full shots of it, because with the flash you can really see the backstitch detail and without the flash you can really see the french knots.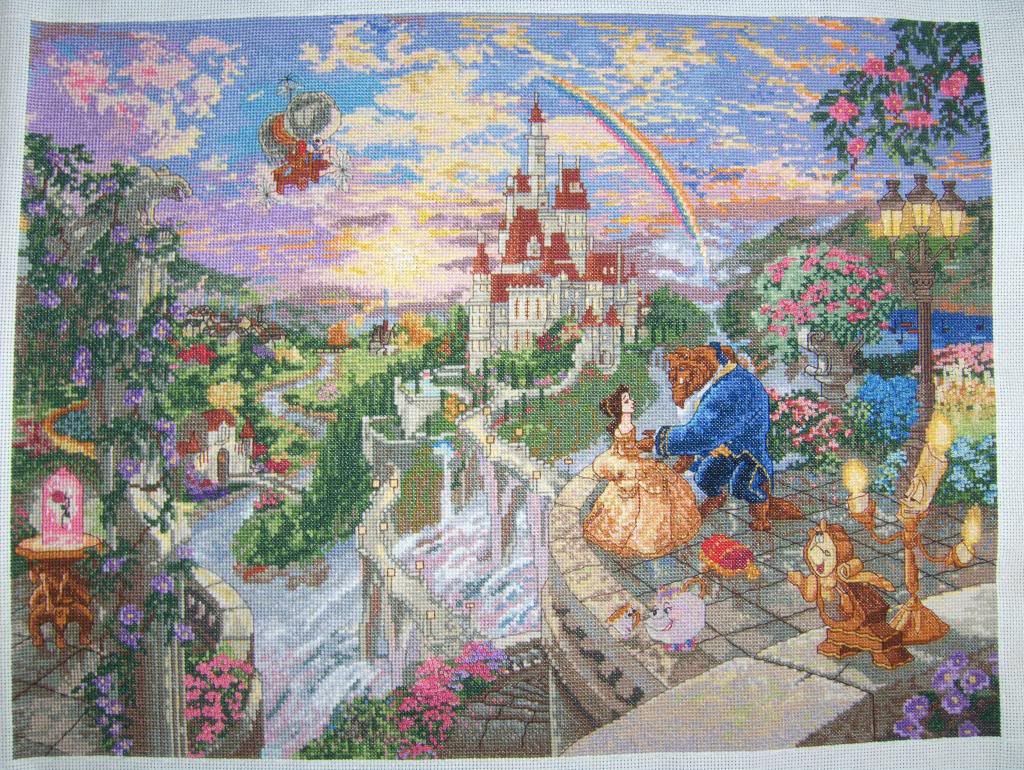 Now for some of my favorite parts:
The village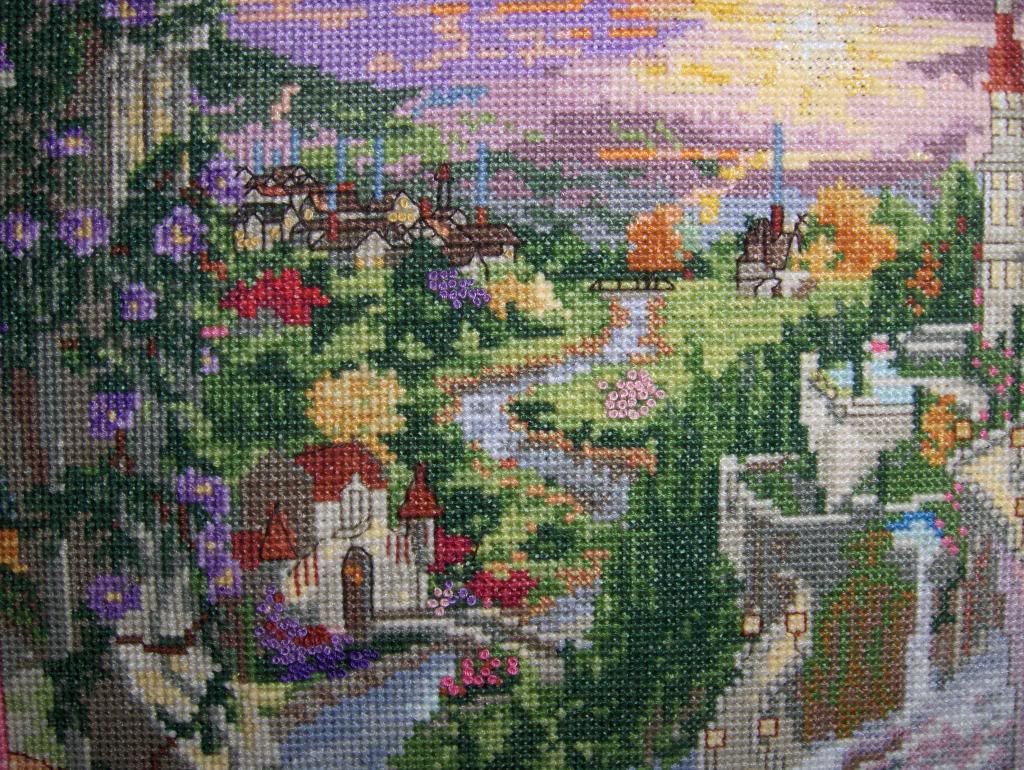 Lumiere, Cogsworth, Mrs. Potts, and Chip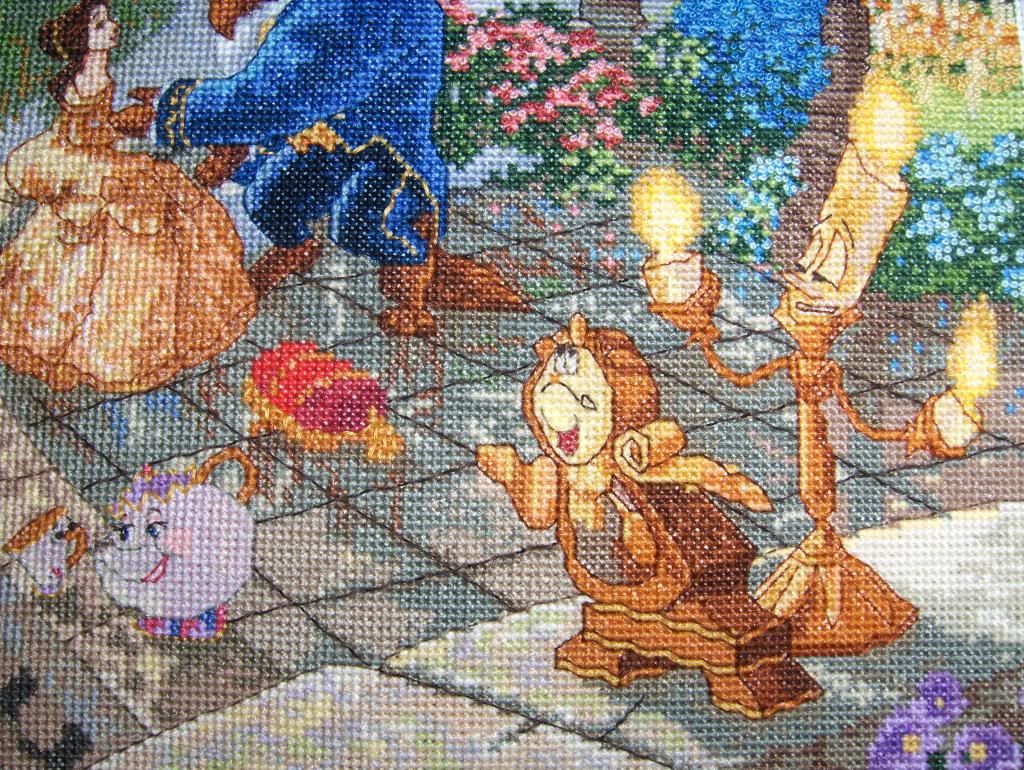 The beautiful french knot flowers (There are about 1200 french knots in this piece. Probably more. And I loved them all!)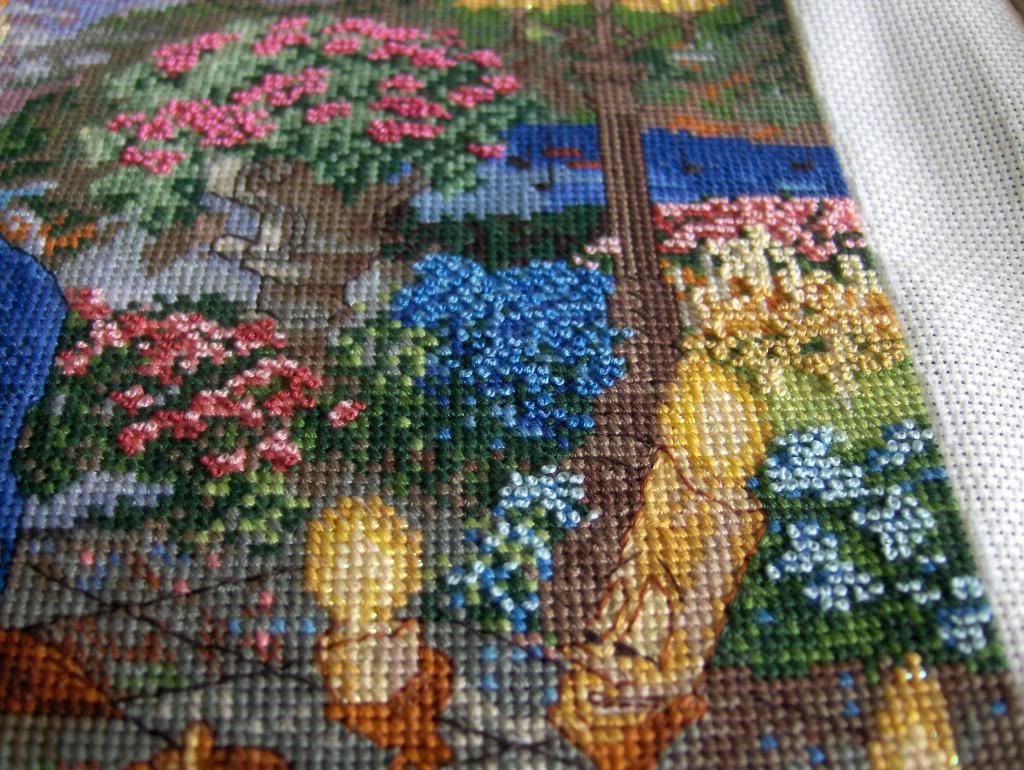 Belle and the Beast, although I can't figure out how to get the sparkles in her dress to come through. In real life they look sooo pretty!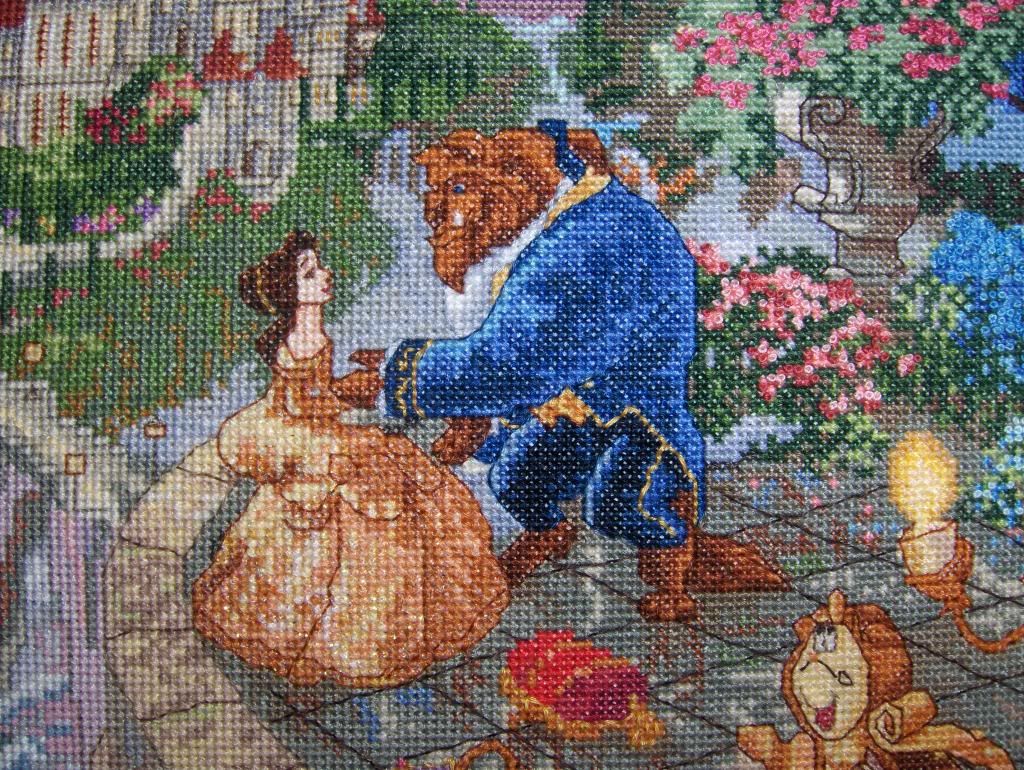 And my personal favorite part, the Rose: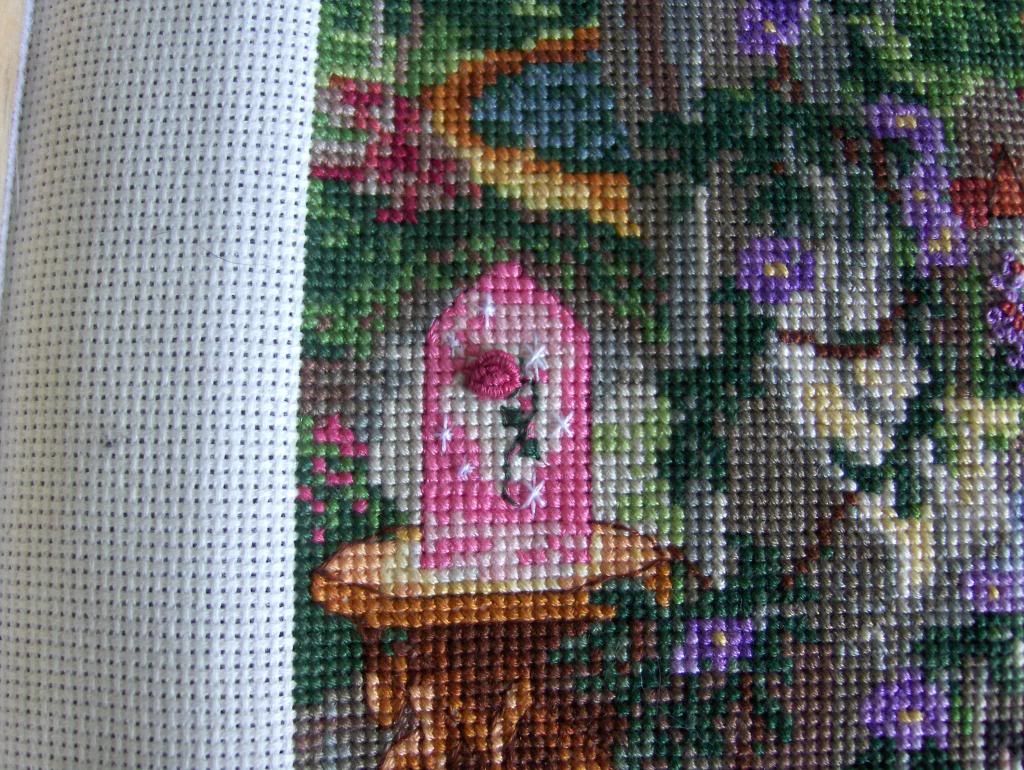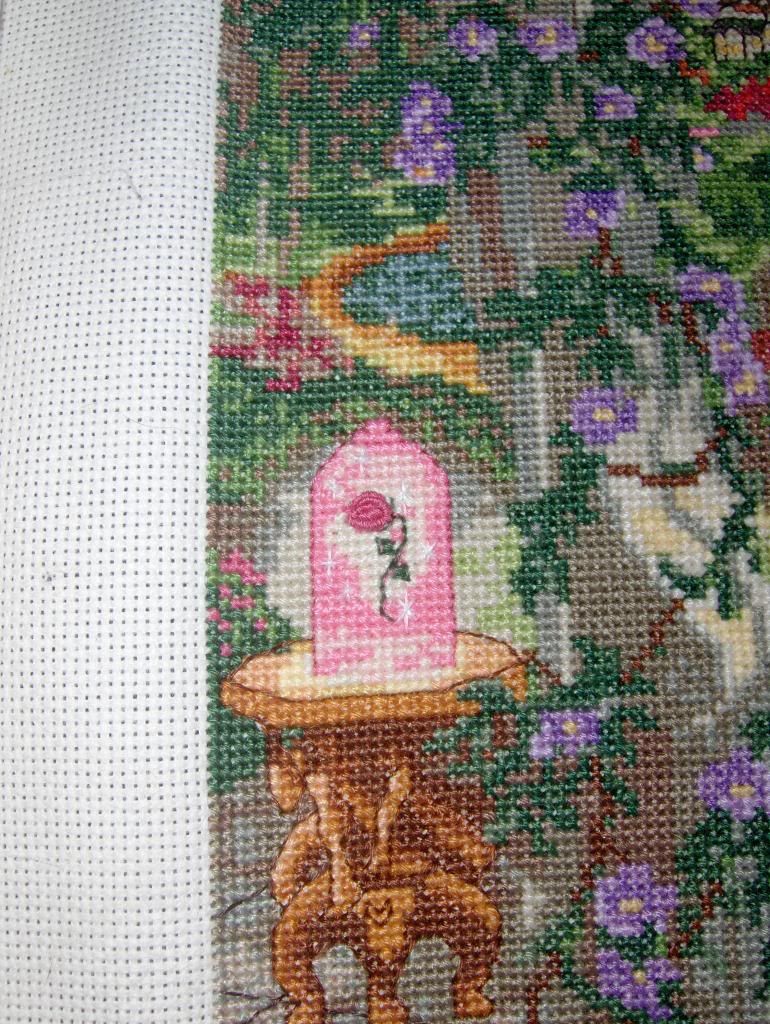 Before, I wasn't all that happy with the way the rose looked. It had a pink stem and looked kind of wilted. To me it was always a super important part of the movie, so I wanted it to look really good. I made the stem dark green and added some leaves (I just followed the pink backstitch line and stitched over 2 of the pink squares for the leaves), and I used Mary Corbet's video on
making a bullion Rose Bud
for the actual flower. I love the dimension it adds. I also threw in a couple of white backstitched 'sparkles' to make it seem shiny :)
I started this on Christmas 2011 and finished it today, but there was an 18 month no-stitchy time in there so basically I actually worked on this for 32 weeks. It was absolutely an incredible, beautiful, challenging, and very enjoyable experience for me. I had never done anything anywhere near this detailed, and I honestly thought at the beginning that I was biting off way more than I could chew. I love Disney though, and especially Beauty and the Beast, so I kept with it. There are 62,208 cross stitches, over 1200 french knots, and lots and lots of backstitching. A lot of people say they don't like french knots, but I really found Mary Corbet's
video tutorial
helpful. The biggest advice I have on them, is to pull all the slack out to the base of your needle and then hold the thread steady as you pull it through. That really doesn't make much sense unless you watch her video, but not sure how else to say it.
My next step is to sign this, then I need to wash it, block it, iron it, and have it framed. I have told my hubby that for my birthday I want this professionally matted and framed. I just feel like it is worth it after the hundreds of hours I have spent on it.
Anyway, now that I am finished I don't feel like I have to spend every spare waking moment working on this. It's time to finish the book I'm reading, make a couple new starts, and probably start with the spring cleaning. Thanks for looking, I am super proud of this :)