Now that I am finished with Beauty and the Beast, it is time to start something new. It's funny, a lot of people LOVE starting new projects, but I'm not really sure that I do. I mean, I love having something new to work on and I can think of 100 different patterns I would want to make... But honestly I love watching the project grow and develop. I don't like the first phase much when there isn't much progress to show. Anyway, here are my 2 new starts for the week:
Even though my daughter is 3 years old now, I bought this pattern back when she was only 1. Honestly, she is more of a Princess now than she was before - she definitely lives up to her name! (Sarah means princess, btw) This one is a birth announcement by Bucilla on 14 count fabric, and here is what the finished pattern looks like: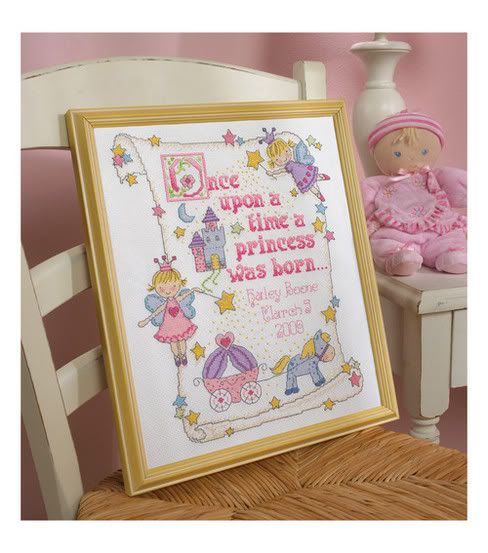 And here is my progress so far from this week: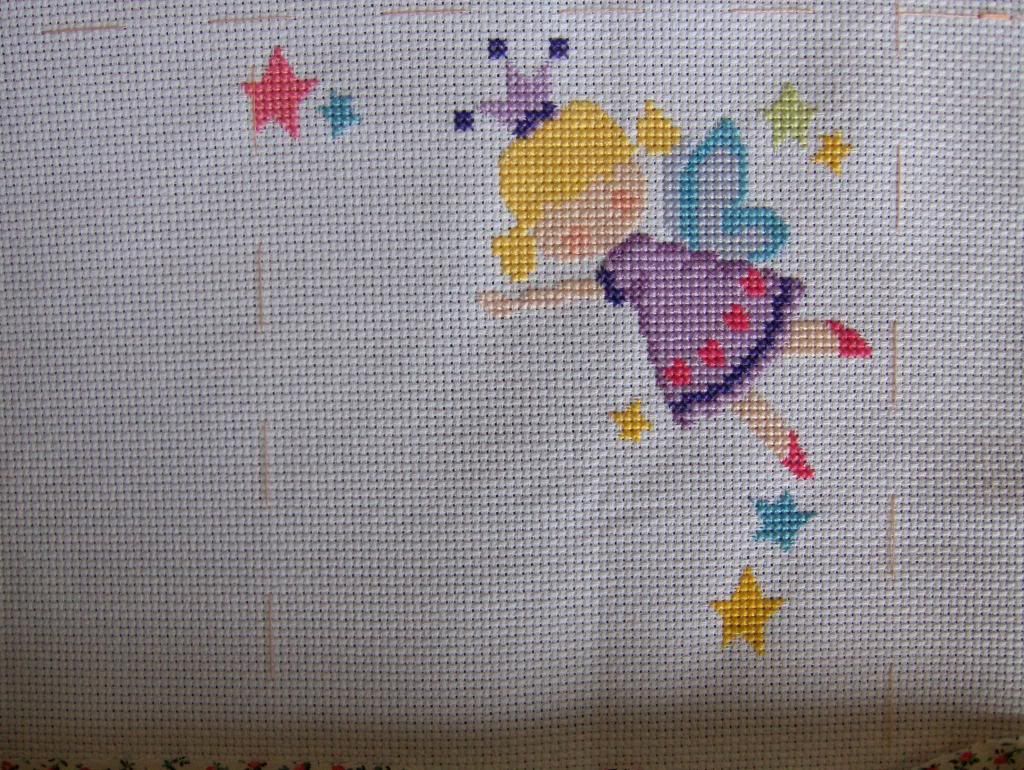 After so much on 18 count, the 14 count feels really big, but I'm still happy with the coverage. Not a huge amount done yet, but for the amount of time I was able to stitch this week I think it's going pretty quickly. Much faster than Beauty and the Beast. Although I will say that I have had much, much, much more trouble counting this than B&B. I had to frog and re-do the green and yellow stars up in the top corner, and part of her wing, and the start of the big yellow star at the bottom. I think it's because of the big open spaces... Also, I'm not sure what it is with me and not having the floss I need in the kits I buy, but there was no dark purple in this kit. I supplemented from my own stash, and I think it looks alright. Hopefully I don't have much more trouble with that in future kits, it's a little frustrating.
I am also fascinated by Drawn Thread Embroidery. I bought the book
Beginner's Guide to Drawn Thread Embroidery
and I love some of the samplers in there. I decided for my first 'practice' piece, I will take some elements from the samplers in the book and adapt them to my own sampler. I bought this piece of linen a little while ago at Joann's, and it isn't technically evenweave but it does seem to be more even than your average fabric. I am hoping to be able to do maybe one band per week on this. We'll see how it goes. Here 'tis so far: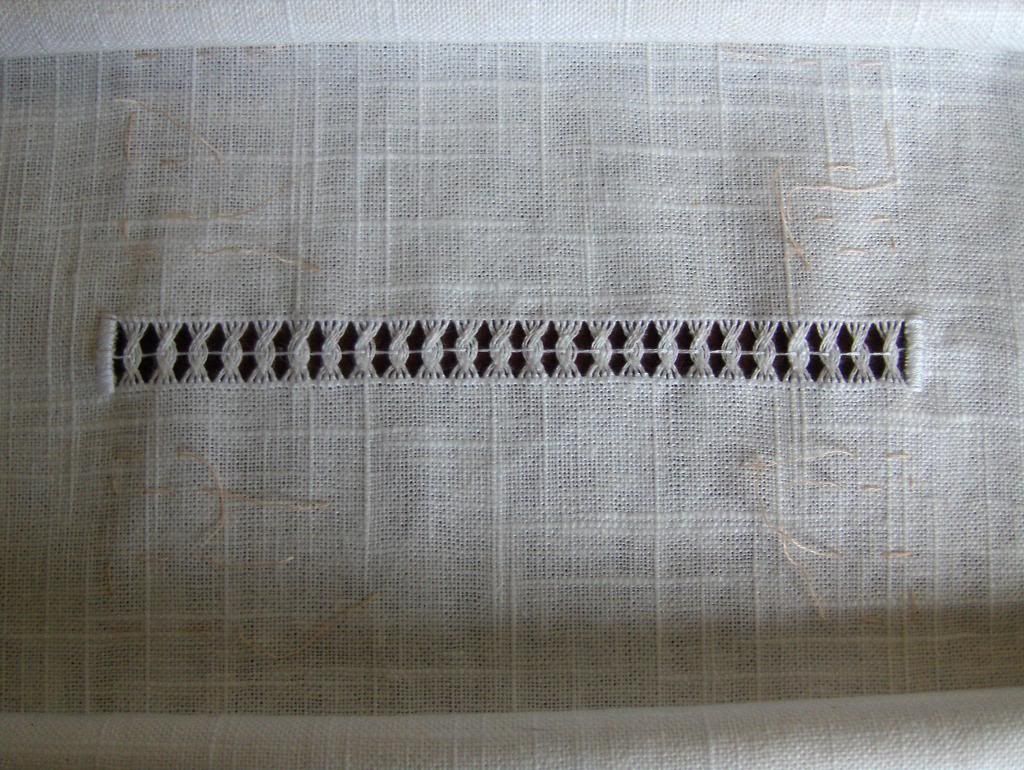 And a close-up
It's pretty neat. You satin stitch the two short edges of the band and then remove the horizontal threads between the satin stitching. Then you hemstitch the top and bottom and group the vertical threads all purdy like. It's fun :)
Last, just so you all know that I am definitely planning on doing more of the Kinkade Disney pieces, here is my Kinkade/Disney stash: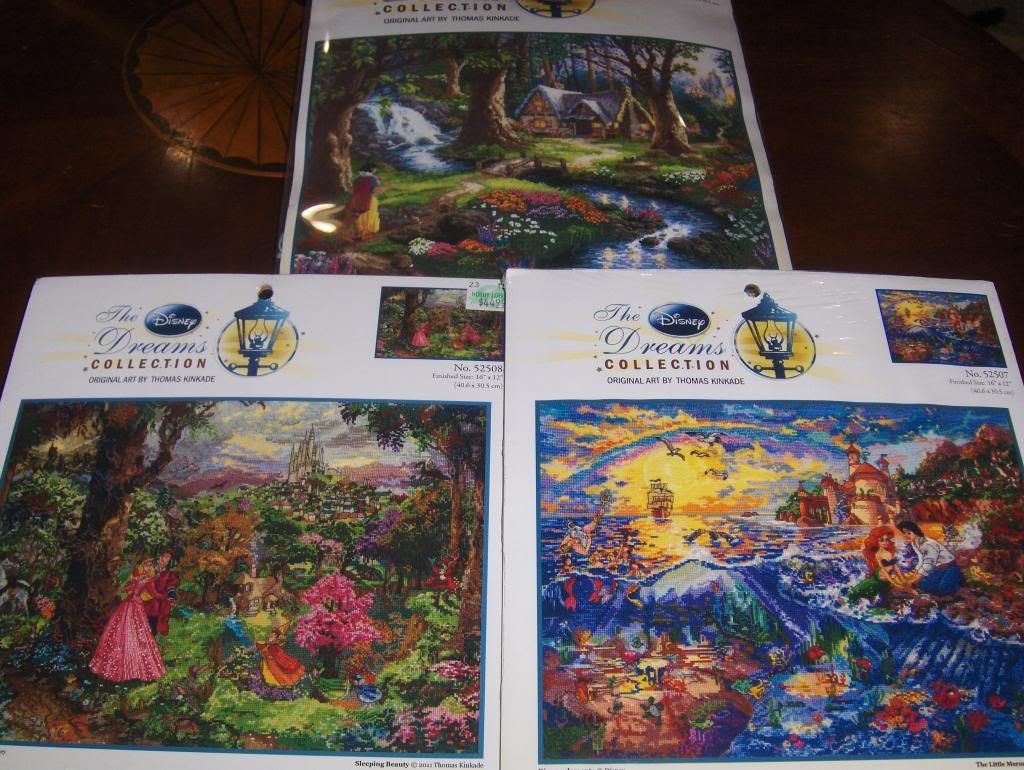 The only thing I know as of now is that I want to do Snow White next, after I am done with Sarah's Princess pattern. I just think it is the least 'busy' of the three and it will go faster with less partial stitches. Still months and months, but still :)