So I wanted to do a post about my past cross-stitch projects. As I was looking through them, I realized that I am maybe a little bit of a Disney fanatic... I didn't realize that all of the projects that I have finished (except two, which unfortunately I don't have pictures of as I gave them away as gifts) are Disney, and the Princesses at that. Ha ha, ha, ha, ha... (nervous laughter)
So anyway, I had tried one or two projects as a kid for cross-stitching, and I didn't quite keep interest in either one of them so neither of them got finished, and I have no idea what happened to them. One was a unicorn and the other was a hot air balloon, both kits from Hobby Lobby, I'm pretty sure they were done on like 11 count fabric with big blocks of color.
Then, in high school, for Christmas in 2003 my older sister and I had the same idea for each other for Christmas gifts - she gave me a pattern book and some aida fabric and the floss for one project, and I did the same for her. I gave her a Precious Moments pattern book, and she gave me, wait for it, a Disney Princess book :) My first attempt from this book was Belle (my favorite Disney Princess), but she ended up being a little buck-toothed and I didn't have enough fabric to finish the pattern. I didn't realize you needed extra all the way around, and had just cut the fabric to the stitch count. Oops! After that was this one of Snow White: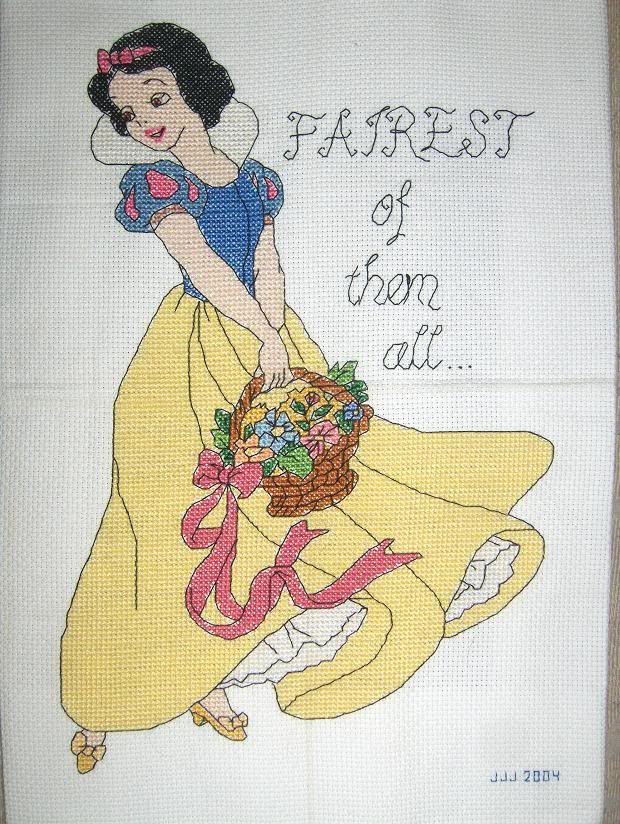 I remember working on her while my then-boyfriend-now-husband played a game called Illusions of Gaia, for the Super Nintendo we had just found stored at my parents house. I think her lips look a little botox-ish, but other than that I really like how she turned out.
Then I graduated high school and went to college, and decided to take my hobby with me. I worked on Cinderella a lot during orchestra rehearsals. It turns out that only about 50% of orchestra music (or less) has harp in it, so I had a lot of down-time. :)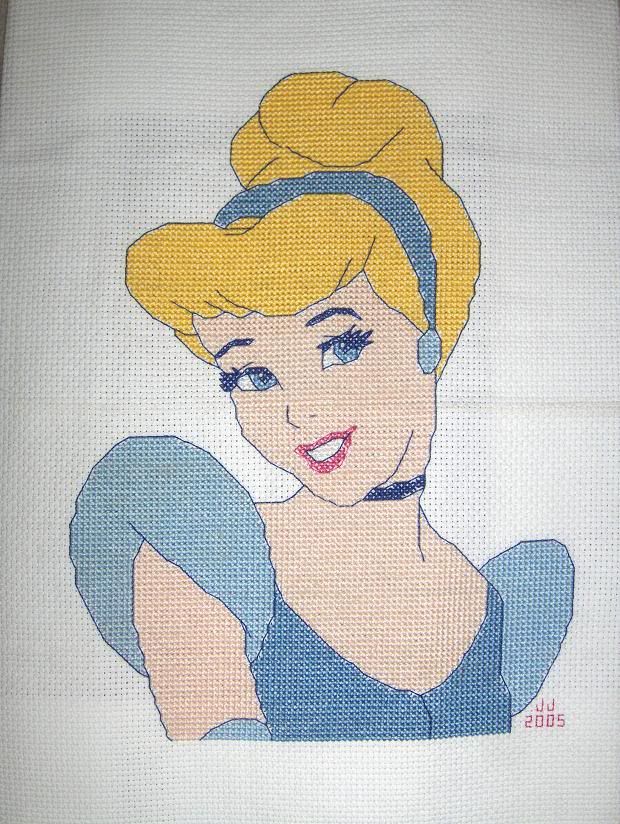 She's so pretty :)
I'm not sure exactly when I stitched Jasmine (my second favorite Disney Princess). I was a goof and didn't put a date on it :(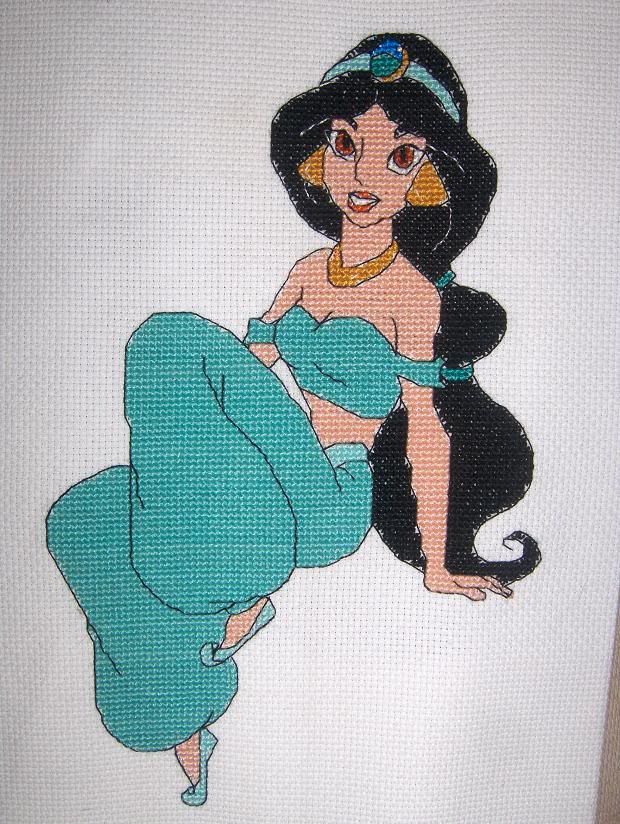 I'm really happy with how she turned out, too. All three of those patterns are from the book my sister gave me :)
Then stitching took a 6 year backseat to everything else. I got married, finished school, started working a little bit, got pregnant, and stopped working. I did pretty good staying busy for a long time as a stay-at-home-mom, but then I got the house organized. Lol it's amazing how much more time you have if you put in the investment to get stuff organized. I feel like I do less housework now than before my little Sarah was born (and she is fully mobile, so she does make a mess!), and our house is 10x cleaner. Anyway, between that and my husband taking a job from 6pm to 6am, then him having to sleep during the day, I started to get really bored. What should I do? I know! I will start cross-stitching again!
I wanted to do a picture of Ariel, but I didn't like any of the pictures in the pattern book. I ended up making my own pattern, and I really, really like how she came out. The backstitch makes all the difference in the world!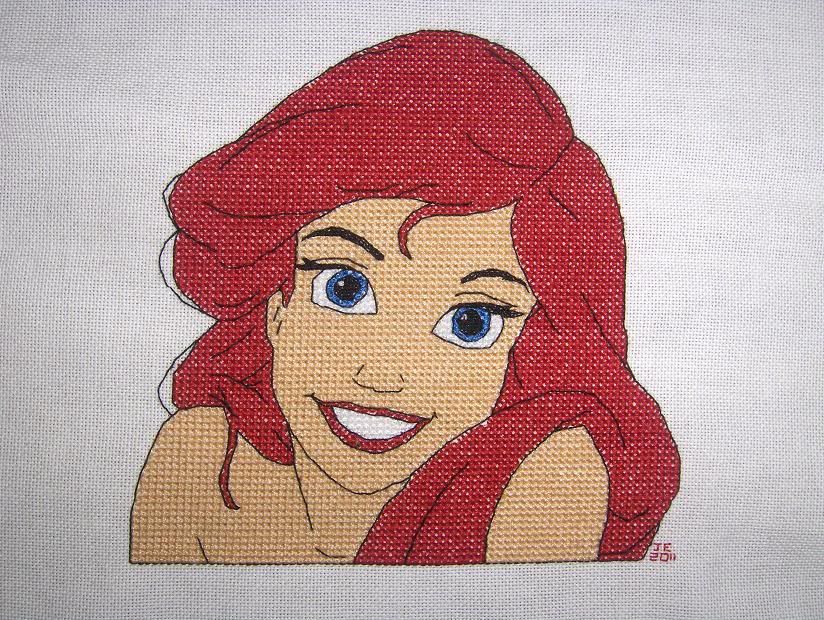 I also worked up a pattern of Mulan, but I haven't stitched it up yet. This Ariel picture was really the one that got me started again, and of course when I was at Hobby Lobby one day I saw the Disney Kinkade kits. I fell in love with both Beauty and the Beast and the Snow White kits. They are much more difficult than anything I have done so far, but I feel like I have made good progress with Beauty and the Beast.
At one point I made a pattern with my younger sister's name, all done in these pretty musical letters with a pretty rose border around the outside, but I gave it to her and I don't have a picture of it. I also made a simple one that was about fishing for my dad, but I never got a picture of that one, either. Those are all of the pieces I have finished, and of course I have several UFOs that may never get done. One is a kit that I messed up sorting the colors and didn't realize it until I was halfway through, One is a couple of snowmen holding up a sign that says "Happy Winter", and a couple that I started and just couldn't bring myself to finish. I think I have to be really in love with a pattern to want to put the work into it, because let's face it, cross stitching is a lot of hours of work! Anyway, I hope you enjoy my older projects, and if I ever get Mulan stitched, I'll be sure to put her up here :)